Easy See Wall Clock
Item Unavailable.
We don't know when or if this item will be back in stock.
Inch-High Black Numbers Contrast with White Face
Item Number: 1049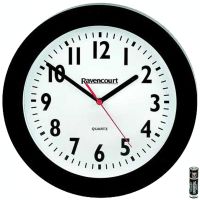 Larger Picture
Product Features
Elegantly designed wall clock.
Measures one foot across.
Has large, contrasting numbers; easy to see.
Features black rim and white face with bold and black numbers.
Boasts black hour and minute hands, as well as red second hand.
Protected by Perspex safety glass cover.
Powered by a single AA battery.

Product Description:
Here is a nice-looking wall clock that is not only elegant, but also easy for everyone to see. Even if your vision isn't what it used to be, the large, contrasting numbers will help you to once again know what time it is at a quick glance.
This wall clock measures a full foot across, and has a black rim. The white face contrasts beautifully with the bold, black numbers. The hour and minute hands are black, and the second hand is red. Last but not least, the numbers on this clock stand a full inch high. The clock face has a Perspex safety glass cover, and the unit is powered by a single AA battery which is not included.
Measures about 11-1/2 in. by 1-1/2 in.
Package Weight: about 1.3 pounds.
(From the Kitchen Corner shelf.)