Double-Six Dominoes, Wooden (With Raised Dots)
Stunning set of Raised-Dot Dominoes in Wooden Box
Item Number: 1234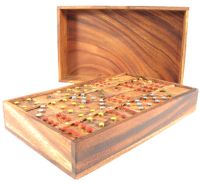 Larger Picture
Product Features
28 solid wooden double-six dominoes with large raised dots.
Game is stored in a beautiful wooden box.
Tiles measure 2" long by 1" wide.
Elegant and versatile; a great pick for all ages.

Product Description:
This stunning set of wooden double-six dominoes towers head and shoulders over anything you've ever had before! First of all, the dominoes come to you in a gorgeous wooden storage case - we've completely done away with those flimsy plastic boxes or canvas bags.
The 28 dominoes themselves are also made of solid wood, and measure two inches long and an inch wide. The dominoes have a raised line running down the center, and feature large, bold raised dots which are easy to both feel and see. Of course, since you simply count up the dots on each side of the dominoe to find out what number it is, you don't even have to know Braille to use this one-of-a-kind set. Each number of domino is also a different color - a major plus for low vision players.
Now, since there are almost as many dominoe games around as there are card games (including Block, Doubles, Draw, 42 - a Texan trick game, etc., and so on), you've just hit on an elegant, expensive-looking gift idea for adults and children - blind or sighted!
Measures about 8 in. by 5 in. by 1-1/4 in.
Package Weight: about 14.1 ounces.
(From the Dominoes and Dice shelf.)
Related Products: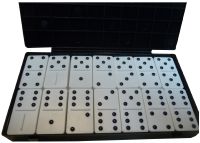 Double-Six Dominoes, Plastic (With Raised Dots)
28 Dominoes with Raised Dots and No-Skid Surface
Item Number: 1232
$12.95
Tell Me More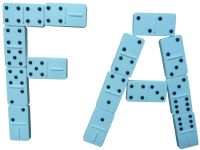 Double-Six Dominoes, Magnetic (With Raised Dots)
Lines of Tiles Don't Move as The Numbers are Felt
Item Number: 1233
$13.95
Tell Me More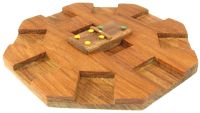 Domino Hub
Play Games Like Mexican Train with Our Quality Hub
Item Number: 1235
$2.95
Tell Me More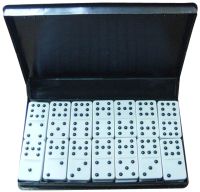 Double-Nine Dominoes, Plastic (With Raised Dots)
55 Dominoes with Raised Dots and No-Skid Surface
Item Number: 1236
$16.95
Tell Me More