Double-Six Dominoes, Magnetic (With Raised Dots)
Temporarily out of stock.
Usually ships in July 2017.
Lines of Tiles Don't Move as The Numbers are Felt
Item Number: 1233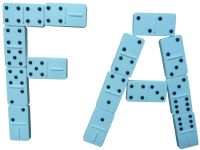 More Pictures
Product Features
Durable plastic double-six dominoes with raised dots on top.
Magnetic feature holds dominoes securely in place so they can be felt without moving.
Tiles measure 2" long and 1" wide.
Dominoes are stored in a sturdy plastic box.

Product Description:
Ever since anyone can remember, dominoes have been played end to end to form lines and intersections much like a giant game of Scrabble. With that style of play has come an obvious challenge for blind players: to feel the number on each domino tile without bumping it out of position at the end of a long line. That problem is solved, however, with our new magnetic domino tiles.
Here is a standard set of double-six dominoes, made of solid plastic and virtually indestructible. Like our other sets of dominoes, each dot is raised so blind players can quickly tell the number on each end. Unlike anything else we carry, however, each tile has a strong magnet imbedded in the middle of each plastic bone. The result is a high-quality, solidly-made set of playing pieces, that literally stick to a steel or magnetic playing surface like glue. Now, players can touch the various lines of tiles extending from an angled hub. Nothing will get jumbled, because the pieces are stuck fast and won't be moved by a delicate touch. Of course, the dominoes can still be easily swept into their plastic storage box when the game is done, and the case itself even snaps shut for easy transport. Try these out for your next game of Mexican Train - you won't believe the difference it makes when curving lines of tiles stay put as they're being felt. Tiles measure two inches long and an inch wide.
Package Weight: about 14.8 ounces.
(From the Dominoes and Dice shelf.)
Related Products: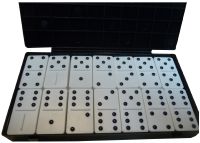 Double-Six Dominoes, Plastic (With Raised Dots)
Temporarily out of stock. Usually ships in July 2017.
28 Dominoes with Raised Dots and No-Skid Surface
Item Number: 1232
$12.95
Tell Me More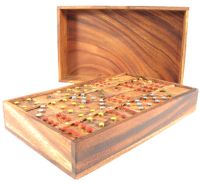 Double-Six Dominoes, Wooden (With Raised Dots)
Item Unavailable. We don't know when or if this item will be back in stock.
Stunning set of Raised-Dot Dominoes in Wooden Box
Item Number: 1234
$19.95
Tell Me More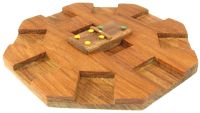 Domino Hub
Play Games Like Mexican Train with Our Quality Hub
Item Number: 1235
$2.95
Tell Me More