Double-Nine Dominoes, Plastic (With Raised Dots)
Temporarily out of stock.
Usually ships in Mid January.
55 Dominoes with Raised Dots and No-Skid Surface
Item Number: 1236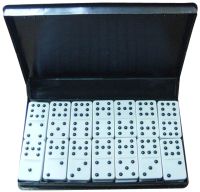 More Pictures
Product Features
55 tiles with raised dots and numbers up to 9.
Tiles sport no-skid surface for ease of use.
Pieces are packed in a durable black hard plastic case.
Games are more exciting and last a lot longer.

Product Description:
Well, tactile double-nine dominoes can be hard to find, but here they are! Packed in a black, hard-plastic case for safekeeping, this set includes 55 tiles. Completely tactile (with jumbo raised dots) just like our double-six set, these dominoes also have that good old no-skid surface on the back.
Games can really get going with our double-nine set, but not just because you have many more pieces to play with. You see, the numbers on these tiles go all the way up to nine, giving you more numbers, and less pradictability. Each game has more variety, lasts longer ... and is thus more fun!
Measures about 8 in. by 4-1/2 in. by 2 in.
(From the Dominoes and Dice shelf.)
Related Products: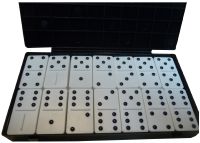 Double-Six Dominoes, Plastic (With Raised Dots)
28 Dominoes with Raised Dots and No-Skid Surface
Item Number: 1232
$12.95
Tell Me More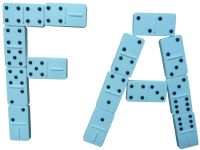 Double-Six Dominoes, Magnetic (With Raised Dots)
Lines of Tiles Don't Move as The Numbers are Felt
Item Number: 1233
$13.95
Tell Me More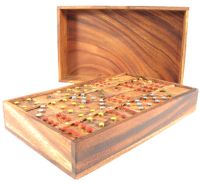 Double-Six Dominoes, Wooden (With Raised Dots)
Item Unavailable. We don't know when or if this item will be back in stock.
Stunning set of Raised-Dot Dominoes in Wooden Box
Item Number: 1234
$19.95
Tell Me More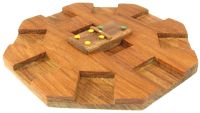 Domino Hub
Play Games Like Mexican Train with Our Quality Hub
Item Number: 1235
$2.95
Tell Me More