Domino Cube
Nice Easy Puzzle, Perfect for Hall or End Table
Item Number: 6016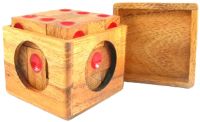 Larger Picture
Product Description:
Here is the ultimate puzzle. It contains nine wooden pieces, all identical, and in the shape of right angles. The really neet thing about this 3D game is it's quite easy to do, which makes it perfect for kids and adults alike. Just put two of the pieces together to form a rectangle, similar in size to a domino, and stack it in the box. "But," you're thinking, "there's an odd number of pieces." Aha! Therein lies the mystery of the Domino Cube! Thus, it won't take more than a few minutes to fit all the pieces back into the box it comes in, yet there is one twist that insures the puzzle isn't too simple. Made entirely of wood, and stored in a wooden box with a lift-off lid, this is a great item to have out on a coffee table to ammuse guests of all ages.
Measures about 2-3/4 in. by 2-3/4 in. by 3 in.
(From the Brain Teasers shelf.)
Related Products: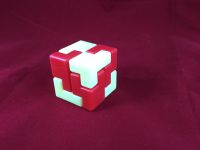 Plastic Cube Puzzle
Great Cube for On the Road, Pieces Snap into Place
Item Number: 1269
$9.95
Tell Me More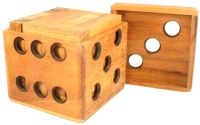 Packing Box Puzzle
Large Cube Puzzle with 25, Identical Wooden Pieces
Item Number: 6021
$9.95
Tell Me More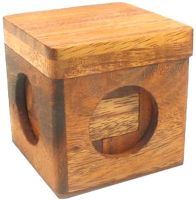 Cube-in-a-Box
Build a cube in a Wood Box With 7 Different Pieces
Item Number: 6023
$8.95
Tell Me More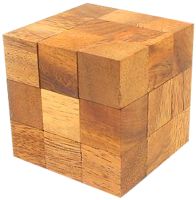 Snake Cube
Form a Cube out of 27 Blocks, All On One String
Item Number: 6029
$6.95
Tell Me More