Digital Memo Magnet
Leave a Note on the Fridge with this Recording UFO
Item Number: 1141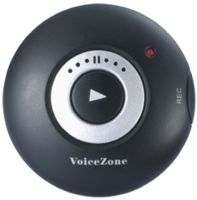 Larger Picture
Product Features
Handy and useful voice recorder or note taker.
Compact, 2" saucer.
Features magnet on back, that sticks to refrigerator or other metal-surface.
Easily record message; press and hold small button at top.
Press large button on front to play 10-second recorded message.
Leave a message for the rest of the family.
Uses CR2025 button-cell battery (included).

Product Description:
"Hi Hon, I'm at the school. Supper's in the fridge, please just stick the pan in the oven and bake at 375. Thanks, I'll be home by six."
The whole family will love it! Imagine, a talking UFO that sticks to the refrigerator. Let's say Dad is going for an early-morning run. Or Mom wants to tell Alex what to have for an after-school snack. Or Big Brother needs to remind Heidi to put the milk back in the fridge ... again! All this and more can be accomplished with this small, two-inch round saucer. On the back is a magnet that holds the light-weight unit to any metal surface, and on the front is a large button that plays the ten-second recorded message. Just press and hold the small button at the top to post your note to the family before you leave. Now everyone will know where you are ... and what to do while you're gone. It's the next generation of scribbled notes on the table by the phone ... a generation of audible notes the whole family can read and write! (Runs on one CR2025 button-cell battery, which is included.)
Measures about 2 in. by 3/4 in.
Package Weight: about 1.1 ounces.
(From the Voice Recorders shelf.)
Related Products:
Fatal error: No other related products found for class Memos