Digital Memo Card
Item Unavailable.
We don't know when or if this item will be back in stock.
Records Up to 90 Seconds, Slides into Your Wallet
Item Number: 1157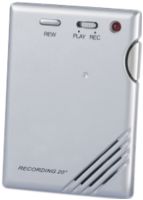 Larger Picture
Read the Instruction Sheet
Product Features
Ideal for recording multiple messages on the go.
Very slim, lightweight, credit-card-sized.
Durable, easy to use, efficient.
Features 2 buttons and a sliding switch.
Boasts single-hand operation.
Records multiple messages up to 90 seconds in combined length.
Keep track of those all-important notes and lists.
Uses 4 AG13 button-cell batteries (included).
Measures about 3" X 2".

Product Description:
It's small, light, and durable. It's the ultimate solution for taking notes around the home, in the car, and at the mall. It's a digital memo pad that no one should be without.
This ultra-thin, credit-card-sized device is ideal for anything from short phone numbers to full mailing addresses ... and so much more. With just two buttons and a sliding switch, you can effortlessly record multiple messages, and play them back later. The unit is easily operated with one hand, and records for up to a total of 90 seconds across all of your messages. That's right, it can remember a long shopping list and still have plenty of room for additional reminders. Things like where your friend parked the car, how much you spent on groceries, or the time of the next Hockey game can all be easily recorded, in separate messages, to remind you when you get home.
Now you don't have to wonder whether it was eggs or butter you were out of, or worry about forgetting your new friend's apartment number. Record it all on your new digital note taker and you'll get it right, every time. (Runs on four AG13 button-cell batteries - included.)
Measures about 3 in. by 2-1/4 in. by 1/4 in.
Package Weight: about 2.5 ounces.
(From the Voice Recorders shelf.)
Related Products: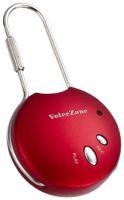 Recording Keychain
Remember Shopping Lists, Phone Numbers and More
Item Number: 1151
$4.95
Tell Me More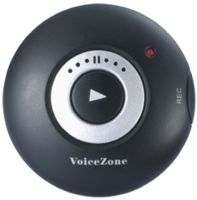 Digital Memo Magnet
Leave a Note on the Fridge with this Recording UFO
Item Number: 1384
$4.95
Tell Me More