Deluxe Talking Watch
High-End and Stylish, with Sturdy Metal Band
Item Number: 1006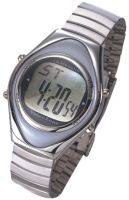 Larger Picture
Listen to this Product
Read the Instruction Sheet
Product Features
Staneless-steel construction.
Can speak the current date.
Has built-in stopwatch.
Can announce time every hour.
4 daily alarms.
Spoken instructions guide you through every setting and feature.
Silver watch with burnished silver metal band.
Durable, comfortable, water-resistant digital watch with fully adjustable band.
Buttons are located on the rim of the watch.
Features crystal-clear female voice.
Adjustable metal band with buckle for a perfect fit.
Runs on one CR2016 button-cell battery (included).

Product Description:
Color: Silver, with burnished silver band.
Here's a top-of-the-line, heavyweight, and durable mens talking watch - on which you won't find a trace of cheap plastic ... anywhere! The features on this stunning digital chronograph watch include four alarms for use as daily reminders, crystal-clear speech, a talking stopwatch, hourly chime, and a date-announce function. It even has a metal band that adjusts and buckles around your wrist, insuring a perfect, comfortable fit.
Packed in an elegant clamshell storage case and presented in a colorful gift box, this men's talking watch would make a wonderful gift for any guy ... even yourself! Designed to be enjoyed, made to last, this comfortable, water-resistant watch is easy to set, even by a blind person. The buttons are conveniently located on the rim of the watch, and the body is made of genuine staneless steel. Complete with a durable, fully-adjustable metal band and attractive new look and style, this watch is sure to be a useful keepsake for many years. (Runs on one CR2016 button-cell battery, which is included - naturally.)
Measures about 2 in. by 1-1/2 in. by 1/2 in.
Package Weight: about 8.5 ounces.
(From the Talking Watches shelf.)
Related Products: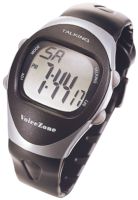 Talking Sports Watch
Loaded with Features, Clear Voice and Lightweight
Item Number: 1004
$14.95
Tell Me More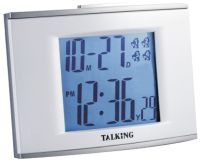 Deluxe Talking Clock
The Only Clock with Four Alarms and a Stopwatch
Item Number: 1018
$14.95
Tell Me More