Deluxe Talking Clock
The Only Clock with Four Alarms and a Stopwatch
Item Number: 1018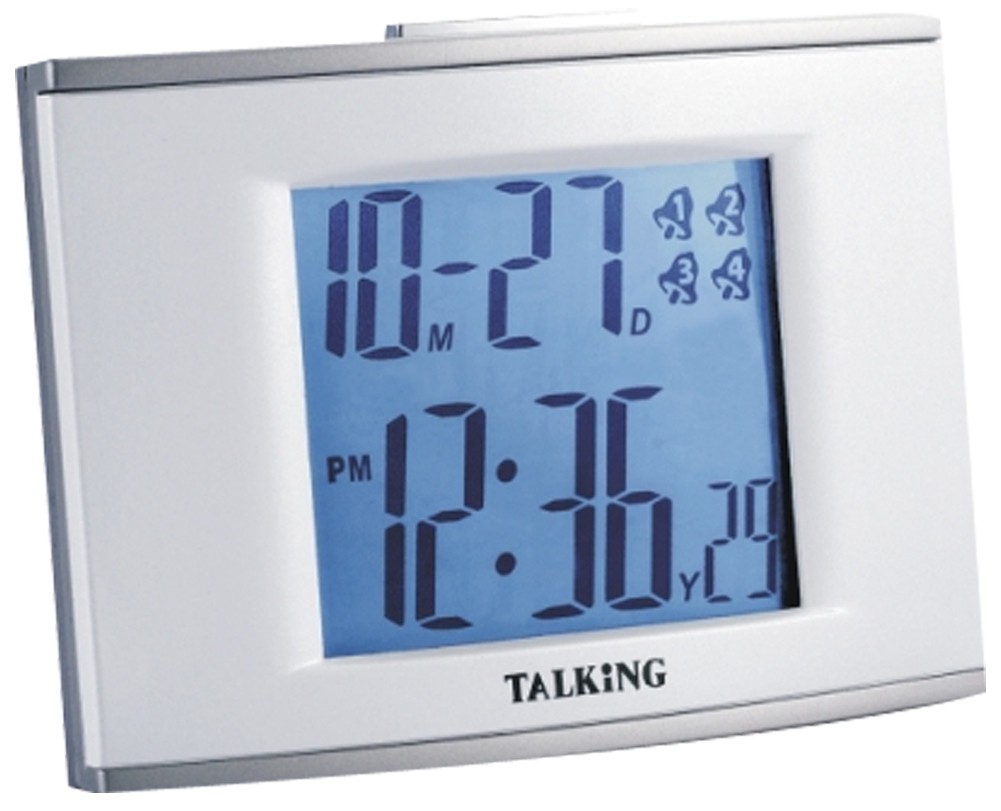 Listen to this Product
Read the Instruction Sheet
Product Features
Can speak the current date.
Has built-in stopwatch.
Has sliding volume control.
Can announce time every hour.
4 daily alarms.
Spoken instructions guide you through every setting and feature.
Boasts the same features as Deluxe Talking Watch, including its crystal-clear female voice.
Attractively designed with a huge 3" digital display screen and stylish TV shape.
Equipped with a foam pad on the bottom for stability.
Takes 2 AAA batteries (not included).

Product Description:
Yes, we know, we're the first to admit it. Our four-alarm talking watches are absolutely fantastic ... until you take them off. Then you reach for the clock on top of the microwave, and wonder how you're going to make do with only one alarm. That leaves no reminder for when to water the plants in the cool of the evening, tell Jacob it's time to do his homework, or give the dog her supper. Guess what? Problem solved.
Our deluxe talking clock could also be called a four-alarm clock. It boasts all the same features as our deluxe talking watches ... and more! This clock's stylish TV shape lends itself beautifully to any handy spot you might find for it. It even has the same voice you've come to know and like.
Behind the large, raised talk button are three smaller buttons, which you can use to control the stopwatch, set the time, and find out what day it is. A handy switch next to these buttons lets you turn off all the alarms, for use on laid-back Sundays or during vacation. Another brand-new feature is a sliding volume switch on the right of the unit, which makes it easy to hear the clock in a crowded kitchen ... or over a blaring television! Attractively designed with a huge three-inch display screen, and equipped with a foam pad on the bottom to keep the clock from sliding around, this terrific little clock is easy to use ... but hard to do without! Takes 2 AAA batteries, not included.
Measures about 4-1/4 in. by 1-1/2 in. by 3 in.
Package Weight: about 5.3 ounces.
(From the Talking Clocks shelf.)
Related Products: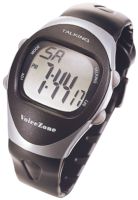 Talking Sports Watch
Loaded with Features, Clear Voice and Lightweight
Item Number: 1004
$14.95
Tell Me More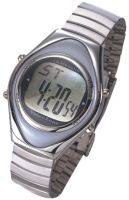 Deluxe Talking Watch
High-End and Stylish, with Sturdy Metal Band
Item Number: 1006
$22.95
Tell Me More