Deluxe Talking Calculator
Temporarily out of stock.
Usually ships in Mid June.
10-Digit Display, Clear Speech, Has Headphone Jack
Item Number: 1047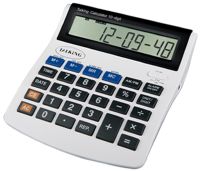 Larger Picture
Listen to this Product
Read the Instruction Sheet
Product Features
Sturdy, with large, half-inch buttons.
Genuine, clear human speech; reads answers in whole numbers or digit by digit.
Features talking alarm clock, plus memory for later recall.
Has foam feet on base for stability.
Boasts both sliding volume switch and headphone jack for quiet use.

Product Description:
For both grade-school students and college professors, from introductory equations to figuring the family taxes, there is no better talking calculator on the market. This full-sized, square device stays in place on your desk, thanks to the foam feet on the bottom. The large, half-inch buttons are carefully arranged to make it easy to find the key you're looking for, with the numbers near the center and marked by a tactile dot on the number 5. Equals is at the bottom right, and Plus is twice the size of the other buttons. From there, finding the operation you need next is easy.
But that's not all. This calculator reads each key you press, as well as each answer, in genuine human speech. Honestly, this is the easiest-to-understand calculator we've ever seen. With the touch of a button your answer is read out either in whole numbers (seven hundred 5) or digit by digit (seven zero five) handy if you're copying down numbers to balance your checkbook. It even has a talking alarm clock, and of course a memory you can use to store numbers for later recall.
Naturally, we've saved the best for last. Next to the sliding volume control of your new Deluxe Desktop Calculator, you'll find a headphone jack. Now, you can run calculations without disturbing others. Handy if you work at night, necessary in a quiet office environment and critical in a crowded classroom, being able to use a calculator in headphones is both polite and convenient. This calculator runs on 2 AA batteries, which are not included.
Measures about 7 in. by 7 in. by 2 in.
Package Weight: about 14.1 ounces.
(From the Math and Measuring shelf.)
Related Products: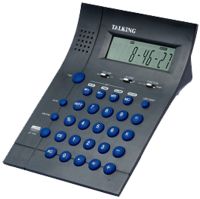 Talking Desk Calculator
Large Buttons and Display,Built-In Alarm Clock
Item Number: 1045
$12.95
Tell Me More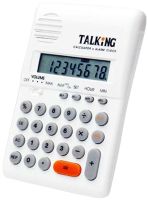 Talking Pocket Calculator
Small Rubber Buttons, Lightweight and Portable
Item Number: 1046
$11.95
Tell Me More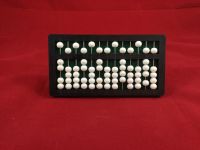 Math Abacus
Used in Schools when Calculators Aren't Allowed
Item Number: 1048
$9.95
Tell Me More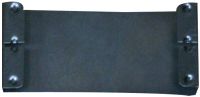 Abacus Coupler
Join Two Abaci Together for Longer Equations
Item Number: 1049
$1.95
Tell Me More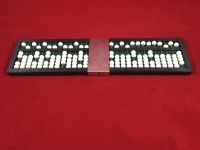 Abacus Kit
Includes Two Math Abaci and an Abacus Coupler
Item Number: 1050
$19.95
Tell Me More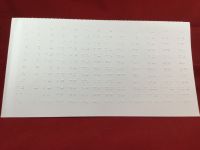 Braille Times Table
Shows Equations up to 12 Times 12
Item Number: 1051
$1.49
Tell Me More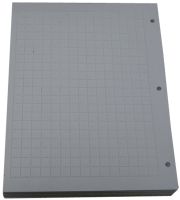 Raised-Line Graphing Paper
Large, Raised Squares - Three-Hole Punched as Well
Item Number: 1052
$13.95 for 25 Sheets (Larger Package Available for Better Price)
Tell Me More