Curly Shoelaces
Item Number: 2008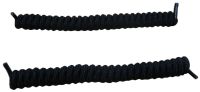 Black
Item Number: 2008-1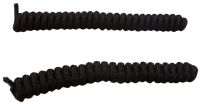 Brown
Item Number: 2008-2

Neon-Green
Item Number: 2008-3
Product Features
Just thread them in and pull them snug.
Never tie your shoes again.
Turn any pair of lace-up shoes into slip-ons with elasticy, curly shoelaces.
Curly laces extend to 38", plenty of length when not being tied.
One size fits most shoes; comfortable and easy for all ages.
Choose from Turquoise-Blue, Brown, or Neon-Green.
Package Weight: about 0.7 ounces.
Product Description
No more loose shoelaces - what a great idea! These elasticy, curly shoelaces turn any pair of lace-up shoes into slip-ons. Simply thread them in, pull them snug, and you're done.
Yes, our springy shoelaces are both safe and comfortable. Loved by people of all ages, they make your shoes always ready to put on. Now you can buy your kids the shoes they really want - without worrying about whether they come with Velcro strips - or if your child really can tie their shoes properly. Adults also appreciate these laces for making tie-shoes faster and more convenient - especially if they're the in-and-out type. Plus, these laces are ideal for anyone who finds it difficult to bend down and tie a normal shoelace ... And of course, there's the added bonus of no more loose shoe-strings to trip on!
One size fits most shoes. Lace them up just once - you never have to tie them! These curly laces extend to thirty-eight inches in length. But remember: since they don't need to be tied ... You don't need as long a shoelace. A great stocking-stuffer!
Related Products:
Minature Slate with Notebook and Cloth Pouch
Item Number: 1127
$13.95
Extra Booklets for the Braille Note-Taker
Item Number: 1128
$0.99
Avoid those Awkward Moments When You Need Help
Item Number: 1129
$1.95