Bright Baby Touch and Feel, Braille Board Book Set
Boxed Set of 4 Touch and Feel Textured Rhyme Books
Item Number: 5007
This is a Children's Braille Board book, which means that in addition to raised Braille, it has extra features. What is a Braille Board Book?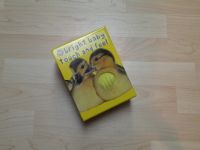 More Pictures
Product Description:
Take your baby or young child to the zoo, tour a farm, and look at small animals with this timeless collection. Each of the four books in this set boasts full-color illustrations, easy-to-read rhyming print and matching Braille text, and textured patches on almost every page to touch and enjoy. A bunny's soft furr, a duck's scratchy hair, a dog's silky coat, and a lionesse's short, tough main all come to life as children read, hear about, and feel the cuddly furr of their favorite animals.
This attractive, sturdily-boxed set of durable board books makes a profound gift for any young child. The titles in this set are At the Zoo, Perfect Pets, Baby Animals, and On the Farm. Each book has been carefully Brailled, so blind children and-or parents can enjoy these great picture books together.
For ages 0 to 4.
(From the Board Books shelf.)