Braille Swing Cell
Item Unavailable.
We don't know when or if this item will be back in stock.
Learn to Use a Brailler with Wooden Board and Pegs
Item Number: 1280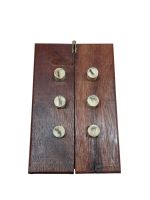 More Pictures
Product Features
Hand-crafted with care from native Jarrah wood with natural finish.
An excellent desktop learning device for everyone.
Board ships with 6 pegs.
Put pegs in any holes on 2 arms of giant cell, then swing arms back against front of board to show keys needed to reproduce on the Brailler.
A simple yet innovative tool for learning to use Brailler.

Product Description:
This concept is really quite simple, but invaluable for folks who are new to using the Perkins Brailler. This board ships with six pegs, which you can put in any of the holes on the two arms of a giant cell. Then, after making your letter, simply swing the arms back against the front of the board, to show the keys you would use to write that letter on the Brailler. This tool has been used for decades in schools across the globe, but never before has it been offered at such an affordable price. Hand-crafted with care from native Jarrah wood with a natural finish, this is one desktop learning device you'll use with pride for years to come.
(From the shelf of ghost products)
Related Products: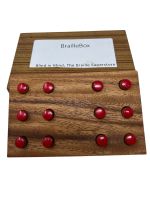 BrailleBox
Make Two Large Braille Characters Using Wood Pegs
Item Number: 1246
$6.95
Tell Me More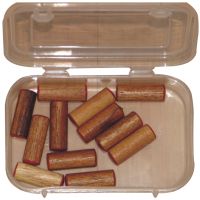 Replacement BrailleBox Pegs
Twelve Spair Wooden Pegs, Packed in Plastic Case
Item Number: 6059
$0.99
Tell Me More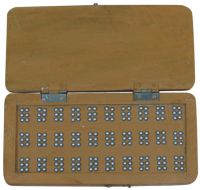 BrailleIt Board
Make 30 Jumbo Braille Characters Out of Metal Dots
Item Number: 1247
$14.95
Tell Me More