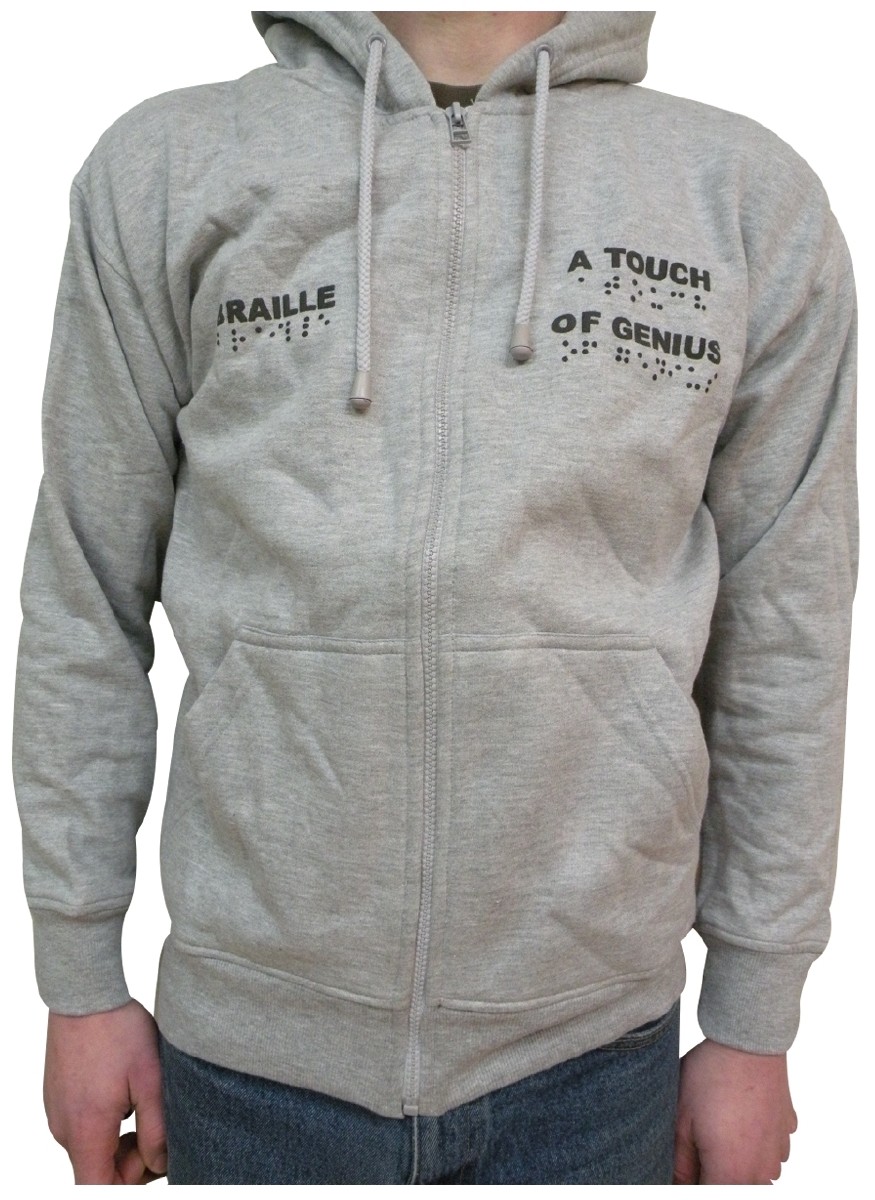 Braille Hoodie, Adult
Item Number: 2045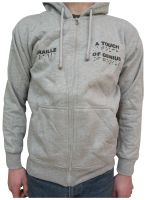 Touch of Genius
Item Number: 2045-1
This design is a long-time favorite of those after a clean, simple look - yet still something that demonstrates Braille in action. On the front of this light-gray hoodie are the print and braille words, in black: Braille: A Touch of Genius. Naturally, the writing is spaced out nicely - with the word Braille on the top-left, and the phrase A Touch of Genius on the top-right. (Sorry, the Extra Large and Large sizes are sold out; orders for XL and Large will be substituted with Medium.)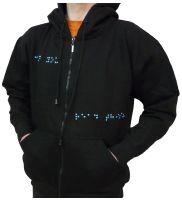 Can You Read This
Item Number: 2045-2
Stump your friends, perplex your co-workers, and strike up conversations with complete strangers ... All by simply wearing this cool new zip-up hoodie. At the top-left of this black garment are the braille-only words, appearing in blue, Can You; and at the bottom-right (on the opposite side of the zipper) are the words, again just in blue braille dots: Read This. The idea is simple, yet fun - there is not a single letter of print text found on this hoodie - nor is there a photo, picture, or drawing of any kind. Thus, folks would need to know braille in order to be able to read what's printed on it. And you can bet that even those who don't know how to interpret the system of dots will be asking you for more details! (Sorry, the Extra Large and Large sizes are sold out; orders for XL and Large will be substituted with Medium.)
Buy one amazing hoodie, and we'll give you the second one for half-price!
Product Features
Hoodies feature both raised print and Braille.
Warm, thick and cozy, with pocket and hood.
2 fantastic choices, with standard sizes available.
Product Description
There's nothing cheap or short-cut-ish about our top-of-the-line, extremely cozy-and-warm hoodies. They're heavyweight, thick, and designed to keep the heat in even on a freezing, blustery winter afternoon. Yes, they have the standard pocket near the bottom, and the slip-on hood to keep your head warm, hair dry, and ears un-frozen!
And, as you might have guessed, our hoodies also feature braille on the front - along with standard-print (both of which can either be tactually felt or visually read. We even offer two different styles of hoodies - read on to choose which is right for you ...
Related Products: