Braille Christmas Tree Ornament
Hang a Wooden Decoration that Everyone can Read
Item Number: 1324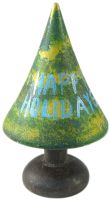 Larger Picture
Product Description:
F: Wooden Christmas tree ornaments are hand-carved and painted.
Each ornament is a different shape.
Ornaments display both print and Braille.
Two tactile ornaments to choose from.
Some of the most tactile, most festive decorations for Christmas Trees across the country are made of wood. And since making things out of wood is our specialty, we're pleased to bring you our line of Braille, hand-painted Christmas decorations.
We have a couple of designs to choose from this year. Each wooden ornament is in the shape of something different, and has a holiday message on it. Don't worry, the message is written in both print and raised Braille, meaning that everyone can read the little phraise. So pick up a couple to complete your tree this Christmas. You can include all your friends and family, blind and sighted, in admiring the decorations.
Measures about 3 in. by 3 in. by 3 in.
Which ornament would you like to hang on your tree?
Happy Holidays
Item Number: 1324-1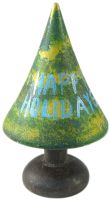 In the shape of a Tree
The King has Come
Item Number: 1324-2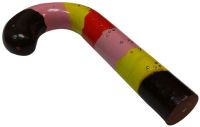 Shaped like a Candycane
Entire Set
Item Number: 1324-3
Hang both of our decorations on your tree this year, and save a buck while you're at it.
Continue Shopping
(From the Braille Novelties shelf.)
Related Products: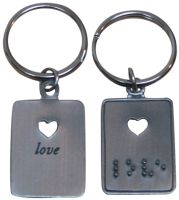 Braille Keychain
Sturdy Metal Keychain with Braille and Print Word
Item Number: 1313
$4.95
Available Words: Love, Live, Peace, Hope, Faith, Jesus, or the Entire Set (for $24.95)
Tell Me More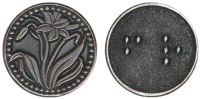 Braille Pocket Token
Unique Coin with Raised Picture and Braille Word
Item Number: 1314
$1.95
Available Words: Friend, Love, Faith, Lord, or the Entire Set (for $6.95)
Tell Me More

Braille Letter Opener
Adorible, Cat-Shaped Handle, Saying Keep in Touch
Item Number: 1315
$4.95
Available Styles: Keep in Touch, or Best Friend
Tell Me More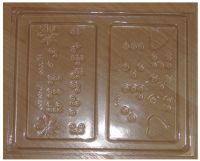 Braille Chocolate Mold
Make Your Own Braille Chocolate Cards
Item Number: 1316
$4.95
Available Messages: Happy Birthday and Love You, Have a Nice Day and Thank You, Merry Christmas and Happy Holidays, or the Entire Set (for $12.95)
Tell Me More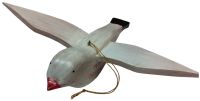 Braille Mantel Piece Ornament
Large, Free-Standing, Hand-Carved Decoration
Item Number: 1325
$6.95
Available Messages: Merry Christmas, Season's Greetings, Let there be Light, or the Entire Set (for $16.95)
Tell Me More