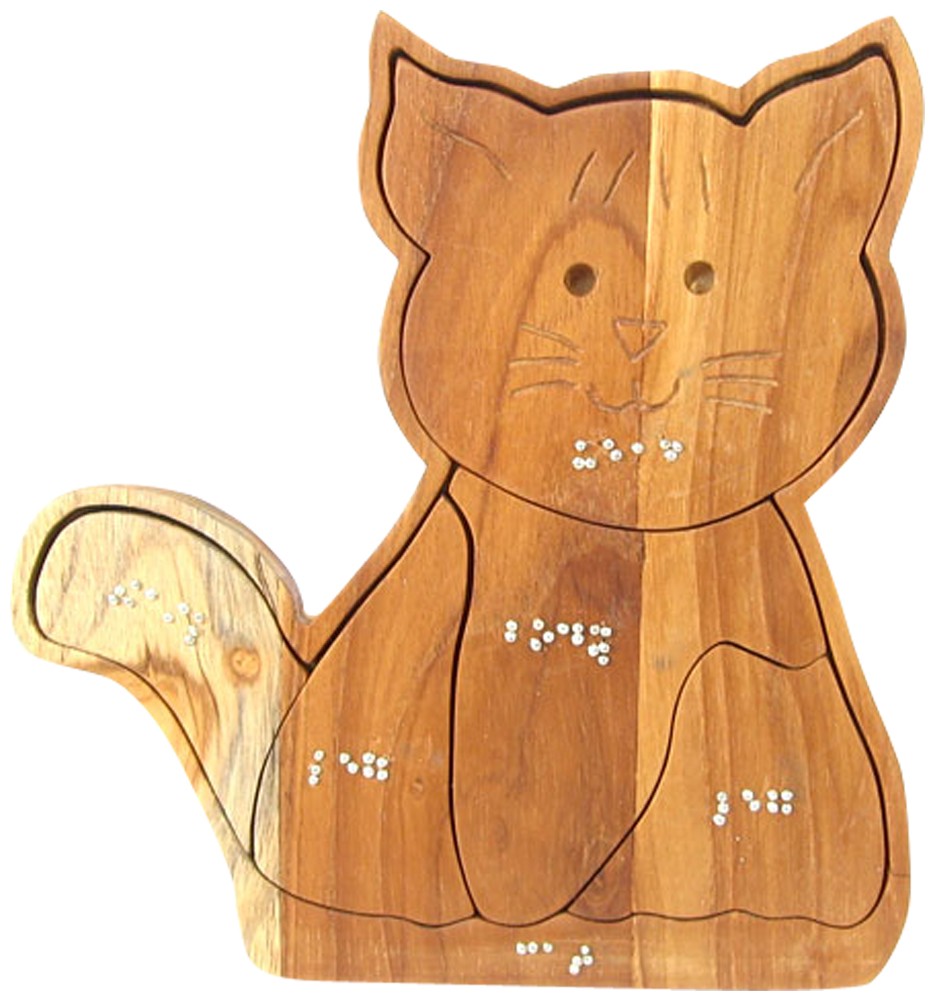 Braille Animal Puzzle
Item Number: 2037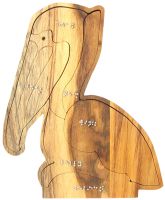 Pelican
Item Number: 2037-1
5 pieces: beak, head, neck, wing, and belly. Penguin
Item Number: 2037-2
5 pieces:
5 pieces:
Product Features
Tactile puzzles each contain 5-6 pieces.
Well-crafted; specifically designed for blind kids.
Every piece is marked in Braille, along with the animal's name.
Border of each puzzle is carved in animal's shape.
Puzzles measure 7" long, 5" wide, and 1/2" thick.
All-wood puzzles are unique, durable, and affordable.
Teaches Braille readiness, tactile discrimination, and putting things back together.
Choose from one of 2 puzzles.
Measures about 5 in by 8 in by 1/2 in.
Package Weight: about 5.6 ounces.
Product Description
There's just something about working on a puzzle that never loses its appeal. And just as adults enjoy the challenge of putting together large, hundred-piece puzzles, kids like to get in on the fun, too. Here, then, is an exciting new product, never before offered to blind kids.
With these simple, five or six-piece tactile puzzles, kids can not only enjoy the game of taking something apart and putting it back together again, but they'll learn the shapes of different animals. Every piece in these all-wood puzzles is marked in Braille, so blind kids and adults alike will know which is the hind leg and which is the tail. In addition, the name of the animal is Brailled on a particularly thick spot on the border of each puzzle. You see, these puzzles aren't just rectangular. Oh no, the border of each puzzle is carved into the actual shape of each animal. In this way, youngsters will learn important concepts about animals in our world as they play. Each puzzle measures about seven inches long, and is around five inches wide. The board is half an inch thick, so it's both durable and portable. Complete with raised, tactile relief on important features, these all-wood puzzles are unique, affordable, and boast impeckable attention to detail.
Please note that your new puzzle may have slight irregularities in the Braille, as the dots are hammered into the wood with metal pegs by hand.
Related Products:
Take an Imaginary Trip, Put Together a Fun Puzzle
Item Number: 2038
$4.95 (Regularly $9.95) Available Vehicles: School Bus, Boat, Bike, or Airplane
Wooden Board and Pieces Make Learn and Play Fun
Item Number: 2039
$4.95 (Regularly $9.95) Available Puzzles: Numbers, Farm, City, Country, Jungle, or Shapes