Bell Soccer Ball
A Quality Soccer Ball - With Jingling Bells Inside
Item Number: 1275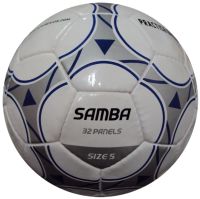 More Pictures
Listen to this Product
Read the Instruction Sheet
Product Features
Regulation size five Soccer ball.
Standard size and weight of a professional ball.
Two large bells inside the ball make noise whenever it is in motion.
Join in that game of soccer (or football), just like you've always wanted to.
Choose from five high-quality balls to meet your needs.

Product Description:
Soccer (or football, as it's known in the rest of the world) is probably the easiest ball game for blind players to participate in. The only real difficulty blind folks face is knowing where the ball is. Well, do we ever have a solution for you!
Our authentic, industry-standard soccer balls are just like those you'd find in your local department store or sporting goods shop; they're identical to the ones used by amateur and professional soccer players alike across the country (and around the world). There's only one slight difference between our audible soccer balls and the ordinary ones you'll have around your school or home. It's a basic yet powerful difference that allows EVERYONE to share in the simple joy of kicking a ball around - for fun or in the name of competition.
The modification we speak of is that each of our balls has a number of jingling bells inside, so everyone will know where it is whenever it's in motion. Whether the ball is in the air, has just landed, or is rolling across the grass, it makes a pleasant tinkling sound that's easy for blind players to hear ... and follow - and locate!
So if you want to play the official game of Soccer, kick a ball around the yard, or just have a quick game of catch, this ball is the perfect choice. Never before offered at this unbeatable price, you're getting a top-quality ball ... that everyone can play with.
Measures about 9 in. in diameter
Package Weight: about 14.1 ounces.
Due to the overwhelming popularity of our audible soccer ball product line, we now offer you the choice of: not one ... not two ... but five various models of balls. No matter which one you choose, we know you'll get hours of good clean fun, an abundance of laughs, tons of exercise, many a lesson in sportsmanship, and so much more!
Practice Ball
Item Number: 1275-1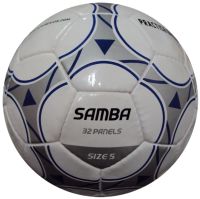 This size five soccer ball makes for a great first soccer ball for anyone of any age. Its durable PVC construction ensures it holds its shape (as well as the air inside) for a long, long time, yet it's relatively light weight gives it a key advantage for those just learning to kick, run after, and catch a ball. But even though this is the least expensive of our regulation-size soccer balls, don't get fooled for an instant into thinking it's a low-quality ball - over three years of research have gone into producing the highest quality soccer ball at the lowest possible cost.
Game Ball
Item Number: 1275-2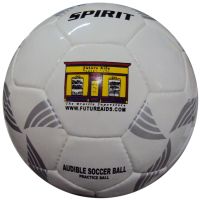 It's amazing what spending only a couple extra dollars gets you. This ball is definitely a cut above our basic practice model, and boasts numerous improved characteristics in both design and construction. First of all, its especially Developed light feel PU surface makes this particular model one of the most popular club match balls out there - schools, soccer leagues, and blind sports associations all turn to it for reliable use, again and again. Secondly, as any experienced soccer player knows, a ball's stitching is vital to its performance and long-lasting durability (or lack thereof). This ball has been carefully hand-stitched with the best-quality waxed and twisted polyester threads to give permanently tight seams. Why go to all this trouble, you might ask? All of this dramatically reduces the drag, which in turn increases the speed and distance at which the ball will travel. Lastly, our Game Ball provides outstanding playing characteristics and twice the air retention than other match balls, not to mention that its scientifically treated synthetic leather ensures excellent water resistance over extended wet weather use.
Pro Ball
Item Number: 1275-3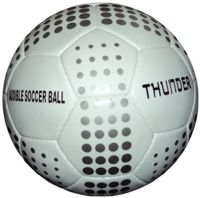 Here is an excellent performance match pro ball. It's the same size and weight (size five) as a regulation soccer ball. It's ideal for older kids or adults to use in games, matches, and tournaments ... And here's why. This ball was designed to reduce drag and rebound, for better accuracy and increased velocity. Its surface is made of high-performance PU for consistent, sustained movement - with excellent abrasion- and water-resistant capabilities to meet or exceed the expectations of all players. The surface of the ball is ultra-soft to the touch, being constructed of PU synthetic material with excellent performance and durability, combined with a multi layered diagonally pre-stretched reinforced network (known as four-way advance balance lining system) for greater stability and performance in cold weather. This ball offers high accuracy and exciting performance over many games - on both natural and artificial playing surfaces. It, too, has been hand-stitched,stretched, and rigorously tested to ensure it will stand up to the demands of soccer match after soccer match.
Keepaway Ball
Item Number: 1275-4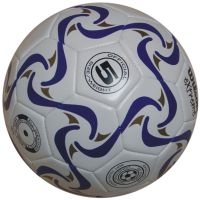 This size two ball is the same design as a regular soccer ball, only smaller. It's perfect for rolling around inside, and is more convenient for youngsters to carry around with them. Whether your toddler wants his or her very own soccer ball to be "just like Big Brother", or your kindergarten class would like to play a fun and safe game of soccer in the gym or out on the playground, this is a perfect introductory choice. We recommend it for children eight and under.
Junior Ball
Item Number: 1275-5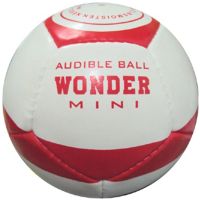 This size three soccer ball is an extremely popular choice for kids. It's a little larger than our smallest Keepaway soccer ball, and is often used in soccer leagues and clubs for students in kindergarten through second or third grade. The mini soccer ball is made with a matte-finished PVC material, ideal for both training and children. The new-and-improved soft PVC surface is perfect for indoor and Astro-Turf use, as well as for outdoors in a backyard, soccer field, empty parking lot ... This durable and sturdy - yet small and portable - audible soccer ball is so practical that we're sure you'll be packing this one every time you go for a drive or on a camping trip with the kids - just as we do!
Continue Shopping
(From the Sporting Goods shelf.)
Related Products: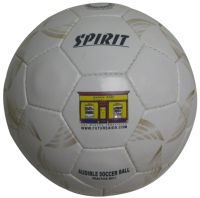 Rattle Soccer Ball
Attractive Soccer Ball - That Makes Constant Noise
Item Number: 1276
Available Models: Practice Ball (for $16.95), or Game Ball (for $19.95)
Tell Me More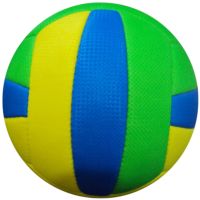 Bell Volleyball
A Well-Made All-Purpose Ball - With Bells Inside
Item Number: 1279
Available Models: Practice Ball (for $14.95), Game Ball (for $16.95), or Pro Ball (for $19.95)
Tell Me More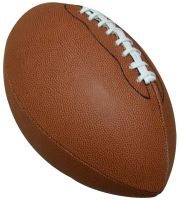 Bell Football
An Ordinary Football - With Jingling Bells Inside
Item Number: 1280
Available Models: Practice Ball (for $14.95), or Junior Ball (for $9.95)
Tell Me More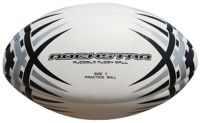 Bell Rugby Ball
A Normal Rugby Ball - Which Makes a Jingling Sound
Item Number: 6030
Available Models: Practice Ball (for $9.95), or Pro Ball (for $13.95)
Tell Me More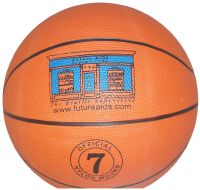 Bell Basketball
A Regulation-Size Basketball with Two Bells In It
Item Number: 1281
$14.95
Tell Me More

Hand Pump
Small and Portable, Easily Inflate any Ball
Item Number: 1282
$2.95
Tell Me More