Bell Hockey Ball, Three-Pack
Pack of Three Foam Balls, Each with a Bell Inside
Item Number: 1285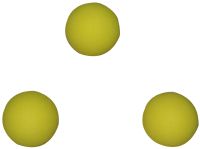 Larger Picture
Listen to this Product
Product Features
2" soft, light-weight foam ball with tinkling sound.
Join in the game; great for blind and sighted children alike.

Product Description:
He's over the blue line on the attack ... fakes a pass ... slap-shot ... he scores! ... The fast-paced action of Ice Hockey has captured the imagination of people around the world for decades. But on those long Winter evenings when there isn't a game on, or in the middle of Summer when it's too hot to play outside, kids and adults alike enjoy playing their own indoor version of the sport: Mini Hockey, or Floor Hockey, as it's sometimes called. Yes, here's your chance to join in the fun.
Our Bell Hockey Ball is just a regular Mini Hockey ball, with a small bell inside. Made entirely of foam, this light-weight, two-inch ball is perfect for almost any setting. You can play (within reason) knowing you won't hurt anyone or break anything, because the ball is soft and light. What's more, everyone will know where the ball is because of the tinkling sound it makes as it moves. Lastly, even if a ball or two goes missing (seemingly lost forever beneath the sofa), don't dispare; this package comes with three identical bell foam hockey balls.
All you need now is something to serve as a net for each player - anything from a cardboard box to the fireplace harth will do. Then pick up a couple plastic sticks (and a three-pack of these audible balls), and let the fun begin! Recommended for ages 4 and up.
Package Weight: about 0.9 ounces.
(From the Sporting Goods shelf.)
Related Products: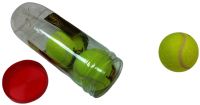 Bell Tennis Ball, Three-Pack
Item Unavailable. We don't know when or if this item will be back in stock.
Three Ordinary Tennis Balls - With a Bell In Each
Item Number: 1284
$6.95
Tell Me More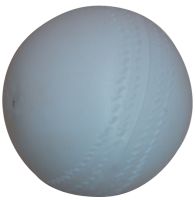 Rattle Ball
3", Hard-Plastic Ball - A Hit with Young Children
Item Number: 1305
$4.95
Tell Me More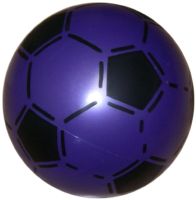 Toy Ball
Item Unavailable. We don't know when or if this item will be back in stock.
6" Audible Rubber Ball, Great for Dodge Ball, Etc.
Item Number: 1306
$4.95
Tell Me More