Beeping Foam Ball
Soccer Ball that Beeps, Whether It's Moving or Not
Item Number: 1200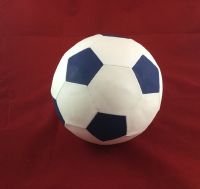 Larger Picture
Listen to this Product
Product Features
Regulation-size soccer ball.
Built-in Beeper enables blind players to follow the ball at all times.
Made of durable, soft foam to avoid ingery.
Just open the flap on the top of the ball, and flick the beeper on.
You'll hear 4 beeps, a second of silence, then another 4 quick beeps.
Enables blind and sighted kids to easily play the game together.
Beeping module runs for several hours on 1 AA battery.

Product Description:
"Owen has the ball at center, looking for someone to pass to. With Yellow closing in he feeds the line to Josh who corners the pass and drills it up-field. On the attack Josh takes off after it but Yellow beats him to the wide-open ball. Owen digs it free and fires near-side to Elliot at center, who takes the pass cleanly and springs David free deep in Yellow territory. Running to make the play David beats Yellow to the ball and squares off ... as time is winding down he kicks the ball with all his might ... David shoots, he scores!" It's a regular game of Backyard Soccer with one exception ... David is blind.
The gold nugget of the young Soccer world, the Beeping Foam Soccer Ball levels the playing field like nothing you've ever seen. Like our other foam balls, this one is the standard size of a regular inflatable Soccer ball, with the same look and similar feel. This ball, however, doesn't have to move to make noise. The tiny, robust beeping module, hidden deep in the center of the high-quality foam, beeps throughout the entire game.
Never before has a ball with such enormous potential been available to blind players of this world-famous sport. Simply worm your finger underneath a special flap found on the top of the ball, and flick the beeper on. For the duration of the game, you'll hear four beeps, followed by just over a second of silence, then another four quick beeps. This carefully-engineered beeping series eliminates confusing echoes and allows players to carry on their usual chit-chat and banter, while keeping all players aware of the ball's location ... at all times! Wind resistance, sloping fields, opposing players and changing strategies are all compensated with this priceless ball. For the first time, kids with absolutely no sight can dash onto the field and make a meaningful contribution to their team, with no extra coaching or guidance. All you need to unleash the full potential of blind youngsters is an ordinary ball ... with a small yet extraordinary modification. (The beeping module runs for several hours on a single AA battery, which, of course, is easily replacable.)
Package Weight: about 8.8 ounces.
(From the Sporting Goods shelf.)