Antique Reading Magnifiers, Set of Six
Item Unavailable.
We don't know when or if this item will be back in stock.
2.5X - 10X: Includes Six Small Strong Hand Readers
Item Number: 1180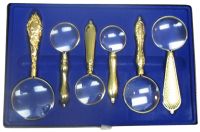 Larger Picture
Product Description:
Instead of trying to figure out which magnifier might work for each particular purpose, you could simply pick up this nicely-boxed set of six small, handheld reading magnifiers. Ranging in power from 2.5X all the way up to 10X, each magnifier is quality-constructed and features a real glass lens. This value-pack is also a real bargain for those who keep a close eye on their pocketbooks!
(From the Reading Magnifiers shelf.)