All-Metal Magnifier, Medium
6X, 2.5D: Metal Body and Rim With Clear Glass Lens
Item Number: 6018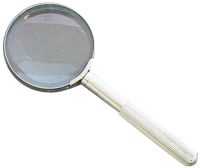 Larger Picture
Product Description:
Since the introduction of our Classic
All-Metal Magnifier
, the only complaint we've been hearing is that we don't offer a model with more magnification. So ... here it is.
This model is still constructed entirely of metal for the body and rim, and has a crystal-clear glass lens. The lens itself is 3" in diameter, and has 6X magnification power. This one's great for school or office work, pouring over bills, contracts, and the like, or any other of about a million practical uses.
(From the Reading Magnifiers shelf.)
Related Products: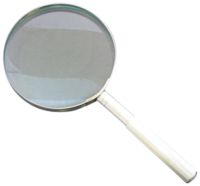 All-Metal Magnifier, Classic
4X, 3D: Metal Body and Rim - with Clear Glass Lens
Item Number: 6017
$4.95
Tell Me More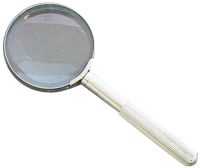 All-Metal Magnifier, Medium
6X, 2.5D: Metal Body and Rim With Clear Glass Lens
Item Number: 6018
$4.95
Tell Me More