Adjust-a-Spoons
Two-Piece Set of Adjustable Measuring Spoons
Item Number: 1038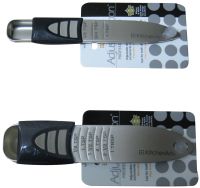 Larger Picture
Product Features
Two-piece set: includes one adjustable teaspoon and one adjustable tablespoon.
Teaspoon measures 5 sizes; tablespoon measures 6.
Spoons are dishwasher-safe.

Product Description:
Well, what could go along better with our adjustable measuring cup, than a set of adjustable measuring spoons? That's what we thought too - not much ...
This two-piece set includes one adjustable teaspoon and one adjustable tablespoon. The single teaspoon can measure five different sizes: 1/8, 1/4, 1/2, 3/4, and 1 full teaspoon. And the tablespoon, predictably enough, measures half a teaspoon all the way up to a full tablespoon, increasing in half-teaspoon increments.
So how do these work? The concept is pretty simple, really - but rather ingenious, we might add. The spoon starts out at full size, but by simply moving the slider along the handle, you achieve just the desired measurement in seconds. The slider firmly clicks into place at each position, making it a snap for a blind person to count clicks until you get to the right size. Clean-up is also a breeze; the slider snaps on and off for easy washing, and both the plastic and metal spoons are dishwasher-safe.
This durable kitchen accessery is constructed out of sturdy stainless steel with an attractive satin finish. You can use it to measure dry or liquid ingredients, and it's dishwasher safe in the silverware tray.
Package Weight: about 4.6 ounces.
(From the Kitchen Corner shelf.)
Related Products:

MeasureMax
All-in-One Utensil - Replaces 11 Measuring Spoons
Item Number: 1039
Available Materials: Plastic (for $3.95), or Metal (for $9.95)
Tell Me More