Adjust-a-Scoop
Adjustable 1-Cup Scoop - Six Measuring Cups in One
Item Number: 1044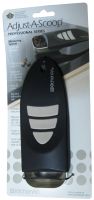 Larger Picture
Product Features
Features adjustable measuring scoop.
Measure both dry and liquid ingredients.
Replaces an entire set of bulky measuring cups.
Simply slide handle to change size of scoop.
Audible "click" is heard whenever you slide handle.
Scoop is dishwasher safe.

Product Description:
Take the guess-work out of cooking (and save time on clean-up) with our exciting new adjustable measuring scoop! Great for measuring dry or liquid ingredients, this adjustable scoop effectively replaces an entire set of bulky measuring cups - and makes it easy for anyone (blind or sighted) to accurately follow a recipe without having to memorize a bunch of different-sized cooking utensils.
By simply sliding the handle, you change the size of the scoop - 1/4 cup, 1/3 cup, 1/2 cup, 2/3 cup, 3/4 cup, and 1 cup. Not only are the various sizes marked in print, but an audible CLICK is heard whenever you slide the handle, making it easy for someone with no sight to count clicks until the desired unit of measure is reached.
The unique slider on this innovative measuring tool firmly locks into place at each interval, ensuring half a cup won't suddenly become two thirds of a cup! And, lastly, the scoop is dishwasher safe, if put through on the top rack. Made of stainless steel with an attractive satin finish.
Package Weight: about 6.3 ounces.
(From the Kitchen Corner shelf.)
Related Products: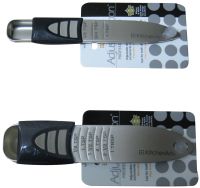 Adjust-a-Spoons
Two-Piece Set of Adjustable Measuring Spoons
Item Number: 1045
Available Materials: Plastic (for $4.95), or Metal (for $13.95)
Tell Me More

MeasureMax
All-in-One Utensil - Replaces 11 Measuring Spoons
Item Number: 1046
Available Materials: Plastic (for $3.95), or Metal (for $9.95)
Tell Me More